Welcome ToElectronic Services

---

Flashers for Signs
-We manufacture and sell UL recognized multi-point electronic controller and driver boards for the sign industry that can be serviced in the field with a screwdriver, no soldering is necessary.

-Animate your next sign project with our custom software and reliable electronics for a unique display that will please your customers.

-We have lit up hundreds of incandescent and neon signs since 1987.

-We have animated signs as big as the the LG and Cup Noodles signs at Times Square down to the directional arrow at a local parking garage. No project is to big or small.

- No PC required to run, or program our boards. No software packages to lease.

---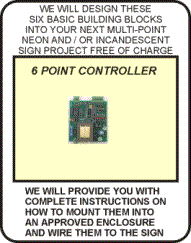 Greetings:
This is a information site. Where we educate new customers on how
our products operate and why they are so much better than anyone
elses products. What other flashing products do you know of that
can be serviced in the field with a Phillips screwdriver? You do
not need to hire an electronic technician to service our products.
Any electrician, after viewing this site, can perform any maintenance
necessary to maintain the equipment. Our equipment is in hundreds
of signs world wide and the amount of service calls on our electronics
can be counted on one hand!

If you want reliable UL recognized flashers in your next sign project,
want to be able to install it then forget about it, then you have entered
the right site. If you would rather have equipment that requires constant
attention, a technician to repair, and a software engineer to program then
you are at the wrong site.

Don't wait till the sign is on the pole to call us. Get us involved in
the planning stage, it's free.
OUR MULTI-POINT CONTROLLERS DRIVE TECH-22 TRANSFORMERS OR SOLID STATE RELAYS OR OUR TRIAC BOARDS.


IF YOU NEED A SIGN SYSTEM DESIGNED FOR YOUR NEW SIGN EMAIL ME AND I WILL DETERMINE YOUR
BOARD (AND SOFTWARE) NEEDS AND GIVE YOU A BOM SO YOU CAN ORDER THE BOARDS FROM MY MANUFACTURER.
SIGN SYSTEM DESIGNS USING ALDOR PRODUCTS IS STILL FREE - ALL CORRESPONDENCE DONE BY EMAIL.
IF YOU HAVE AN EXISTING SIGN WITH ALDOR PRODUCTS IT WOULD NOT BE A BAD IDEA TO ORDER SPARE
EPROM MEMORY CHIPS WITH YOUR ANIMATION SOFTWARE LOADED. THESE EPROMS HAVE A LIFE OF ABOUT 10
YEARS AND MY BOARDS LAST LONGER THEN THAT. THE COST IS $35 PER EPROM. PLEASE PROVIDE A
UPS OR FEDEX NUMBER FOR RETURN SHIPPING.

REPAIRS OF EXISTING BOARDS WILL BE DONE BY ALDOR.

THE CHARGE IS $125.00 PER BOARD. CALL ME AND LET ME KNOW HOW MANY AND WHAT TYPE OF BOARDS YOU ARE SENDING.
I WILL GIVE YOU THE ADDRESS TO SHIP THE BOARDS TO. ALSO INCLUDE A CHECK FOR THE TOTAL AMOUNT AND YOUR
UPS OR FEDex NUMBER FOR RETURN SHIPPING.

I WILL DETERMINE IF THE BOARDS ARE TO DAMAGED TO BE REPAIRED AND ADVISE YOU TO PURCHASE MORE IF THAT IS THE CASE.

YES, I WILL KEEP THE $125.00 FOR MY TIME.
CLEAN THE BOARDS BEFORE YOU SEND THEM FOR REPAIR. I am getting tired of spending half my repair time cleaning off mud and grease
to get to the parts. If another board arrives in my shop covered in grease or mud I will charge an additional $25 cleaning fee.
Run the board through a cleaning tank and blow off all of the moisture immediately or scrub it with 409 and a brush, rinse it off
with some distilled water and blow it dry with a compressor.
ORDER NEW OR REPLACEMENT BOARDS FROM INVERTER DESIGNS IN LANCASTER TEXAS, THEIR PHONE NUMBER IS 972-227-9085





My "other" job for the past 30 years has been design and development of
new electronic products.
Some recent designs include...
A MP3 player that plays MP3 files stored on a small memory card.
A fancy automotive turn signal,
An electronic roulette wheel.
A controller for animating mechanical creatures.
A portable "Kagel Muscle Exerciser" for firming up those Kagel muscles.
A deer feeder timer
A PIR detector that turns on a security light
A power distribution box for a bear stuffing machine
Contact me for any embedded design you may need.

I also do PCB layout and reverse engineering of existing PCB designs.





If you have any questions or comments call Alan Dorman at 702-271-1859 or email us at




MHS